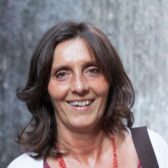 As a native of Genoa, I enjoy sharing my love for this city and its territory. All of my education is in the fine arts and I have always had an affinity for architecture and the visual arts. I am certified as a tourist guide and an environmental hiking guide for the provinces of Genoa and La Spezia.
I started working as a guide in 1994, and throughout my training I earned a number of certificates. During this time, I specialized in the art history, the environment and the landscapes of Genoa and other eastern Liguria territories; however, I also researched local food and wines as well as the traditions and the material culture of this area.
I work predominantly in Genoa, La Spezia, and the eastern Riviera, which includes the Paradise Gulf and Camogli/San Fruttuoso, the Tigullio area and Portofino, the Cinque Terre and the Poets' Gulf.
My favorite activities include guided tours of Genoa's historic center and the UNESCO Rolli palaces; they also entail thematic tours of museums and exhibitions and historic shops; I also specialize in religious tourism and tours of the Staglieno cemetery along with urban trekking in Genoa and its surroundings, its forts, and the historic aqueduct. Additionally, I lead environmental tours of local historic parks as well as the regional parks of Portofino, Portovenere, and the National Park of the Cinque Terre.
For the sake of promoting a more sustainable tourism, I enjoy leading explorations of ancient villages on the least-trodden paths of the inland. Given my background in art history and the environment as well as my long-standing field experience, I pride myself in providing a comprehensive approach to Genoa, La Spezia, and their territory.