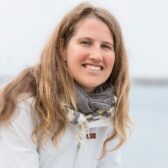 I have always wanted to become a tour guide, so, after obtaining the qualification and a degree in Conservation of Cultural Heritage, I started my dream in 2004 in the middle of the events of Genoa, European Capital of Culture.
I like sharing my knowledge with people, leading them to discover churches, palaces, exhibitions, museums of Genoa, city of my soul and villages of the Riviera where I grew up. Thanks to my job I meet people from all over the world, a really exciting exchange of cultures and languages. Over time I've learned English, French, German and Spanish, I also tried a basic Japanese course precisely because I want to meet and welcome people in the best way.
I consider myself lucky because I'm fully satisfied with my job and I enjoy my passion for art, languages, nature and delicious food.