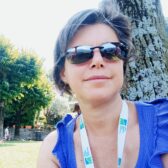 25 years ago I started to work in tourism, leading groups all over Europe.
After a few years I started to work  as a local guide, and I still combine the two professions in a constant enrichment.
I often organize specific tours in my place: photography, literature, Middle Ages, Modern Style are my favourite subjects. Sometimes I even manage to put together a tour and a yoga practice!
Although I have always been living in Genoa, I have the Swiss nationality: I speak Italian, French and German since I was a child. Later on I studied also English, Spanish and Swedish.
I am looking forward to meet you in Liguria: its beauty will amaze you!
http://www.discovergenoa-riviera.com
Hej! Jag arbetar i turism sedan 1995, när jag började att arbeta som reseledare. Jag reste i ganska Europa. Några år sedan började jag också att arbeta som guide i Genua och Rivieran.
Jag har alltid bott i Genua, men jag är schweiziska, så redan som barn pratade jag italienska, fransk och tyska. Efteråt studerade jag också engelska, spanska och svenska. Varför svenska? Eftersom ja var nyfiken! Och jag älskade språket.
Tyvärr pratar jag aldrig på svenska, så är mitt språk inte bra. Men jag skulle vilja träna upp, och det ska var kul att träffas i Genua!