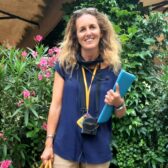 I was born and raised in Liguria and attended  the university in Genoa, where I studied English, German and Swedish language and literature.
After a couple of years in Bavaria I moved back to Italy, got my license as a tour guide for Liguria in 2003 and I've been working as a tour guide and tour manager in English, German and French since then.
I'm always on the move, doing also hiking trips in the amazing Ligurian countryside and I spend a couple of months every summer in Iceland, leading tours around the island. I live in Bordighera, which boasts a very mild climate in the winter time and was one of the first seaside resorts in the Belle Epoque, inspiring the Impressionist painter Monet and the architect Charles Garnier for their masterpieces. I love letting my clients experience the stunning nature, light, colors and architecture of the Mediterranean.
Being a tour guide is for me not just a job but a real passion in my life and I consider it like a sort of a mission, because it gives me the opportunity to show my country, its treasures and its lifestyle to people from all over the world and get them to know it better. Western Liguria is a well kept secret in Italy, you can go from the Mediterranean to the majestic Sea Alps in an 1-hour drive and our stunning countryside with its lovely villages from the Middle Age definitely deserves a stop! Not to mention our healthy and delicious food and the local wines, I really enjoy taking tours to discover this primary aspect of Ligurian life!