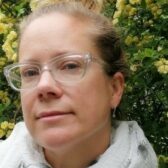 My name is Sarah Andor and I am a national city guide of Italy living in the Ligurian province of Imperia which you might know with the name of "Riviera of Flowers". I am also working as an international tour director and as official local guide of the Principality of Monaco Montecarlo.
Originally my home town is Munich in Germany but since my childhood I used to spend  my holidays in my family's house in the countryside of Imperia. This is how I  fell in love with the stunning beauty of the Ligurian landscape, the Mediterranean, the Alps, the picturesque olive trees and so the immense cultural offer, the tiny villages, the people and the treasures of the local kitchen.
After my graduation in Germany I decided to improve my knowledge of the Italian language and to move to Liguria where I am living since 1998. I transformed my love for this territory into my job , showing this little piece of paradise to visitors from all over the world.  Being very close to the French border I am guiding tourists in the world famous French Riviera, too, and also work as official guide of the Principality of Monaco Montecarlo. This makes it possible to give a complete and international idea of this area.
I am at your disposal if you wish to get charmed by Liguria!