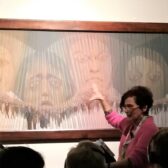 Being a tourist guide has always been my pride and joy. I studied modern languages and literatures in high school and at the University of Genoa, where I minored in art history.
When, as a student, I earned my tourist guide license , little did I know that this activity  would become my  main occupation!
I love to share stories about Genoa and  its  surroundings (both the coast and the inland) with anybody  who may be curious about them, be they visitors coming from far away, students, or even local residents who are eager to learn about their own culture.
Meeting guests from many different interesting parts of the world is particularly gratifying to me.
My specialty is to design and lead alternative and original itineraries through the towns and the villages in the district of Genoa: the Genoese historic downtown; the coastal and hilltop neighborhoods or the mule-tracks that, known as creuse, make for a true urban trekking experience.
I am also a qualified tour leader. Moreover, I enjoy collecting stories about the migrations to and from Liguria in the late 19th and the early 20th century; I am also a lover of the arts of the historical avant-garde, and am fond of animals and good food.
I look forward to meeting you in Genoa!