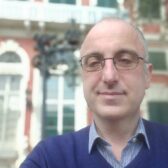 matteo.bavestrello@libero.it
+393475156335
---
Abilitazioni:

GT

Province:

GE

Lingue:
In my opinion, a tourist guide's mission is providing the visitors with the "tools" to understand, appreciate and experience a territory through its history, works of arts, cooking and everything local.
I live on the Italian Riviera, in S. Margherita Ligure (a few kilometes from Portofino) and I love this strip of land, squeezed between the sea and the mountains, which offers plenty of attractions such as the city of Genoa known as "the Superb", some sophisticated seaside resorts with an authentic soul to be discovered and the innerland, still untouched by mass tourism. Here we can find hidden gems like the Basilica of San Salvatore dei Fieschi.
I am particularly passionate about certain topics such as the artistic connections between Genoa and the Flemish world, Medieval Genoa, Dante Alighieri and emigration (being myself a descendant of a family that emigrated to America).
Before starting a tour I like talking with my guests trying to meet their expectations and create with them a significant travel experience. I also work part-time in a hotel and I love organizing cultural events of various kinds in my hometown.
I'm lucky because the places where I live are the fire of my passion.