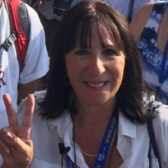 I am a National Tourist Guide and I mostly work in La Spezia – 5 Terre and in the Ligurian Riviera (Rapallo-Santa Margherita- Portofino) and in Genoa.
I am also International Tour Manager and I travelled all over the world.
http://www.parks.it/gui/delcanto.maria.rosa/
Son guia turistica Nacional e trabalho en La Spezia- 5 Terre e na Riviera Ligure (Rapallo-Santa Margarida-Portofino) e tamben en Genova.
Son tamben Chefe de Grupo Internacional e viajei en todo o mundo.