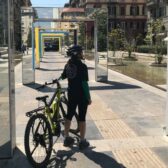 giulia.marsigli@gmail.com
+393494738784
---
Abilitazioni:

GAE

GT

Province:

SP

Lingue:
"Choose a job you love, and you will never have to work a day in your life." (Confucius)
Well, here I am! An experienced and efficient guide who will happily help you with whatever you need.
I am so passionate about my job that I am able to convey all the love for my territory to my guests when exploring ancient villages or a natural environment.
I have been a local licensed tour guide for Cinque Terre National Park and the province of La Spezia since 2012. I often combine historical and naturalistic aspects and lately I have embraced the e-bike world, a new means of transport that provides great delight with little effort.