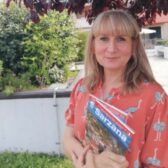 Francesca Giovanelli (La Spezia, 1970) is graduated in Modern Literature with a historical and artistic address at the University of Pisa. She devoted herself entirely to Art, deepening its scientific aspects (Specialization in Science for the Conservation of Cultural Heritage, University of Florence), didactics (qualification for teaching the History of Art), technicians (qualification as Restorer of Stone Artifacts).
She has worked in restoration, excavation and archaeological assistance sites throughout the national territory, cataloging campaigns for environmental and cultural emergencies and census of historical and artistic heritage; she has elaborated historical-artistic itineraries and she has collaborated with the Episcopal Curia, with the Superintendence for the Historical Artistic Heritage of Tuscany and Liguria and municipalities with itineraries outside and inside the city, thematic guided tours; she has published catalogs, articles reviews on an artistic theme, and recently a touristic guide.
He curates art exhibitions and events, in collaboration with entities, institutions, associations, museums, alternating historical, artistic and cultural activities with the professions of teacher and licensed tour guide in the Levante Ligure area.