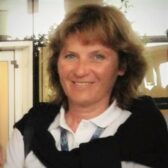 massno@libero.it
+393396092394
---
Abilitazioni:

AT

GM

GT

Province:

IM

Lingue:
I visited Liguria as a tourist in 1983. It charmed me and I decided to stay. Later on, some lucky encounters led me to discover Liguria and its surrounding areas under new eyes: not only a breath-taking territory, but also a history-art-and hidden beauty keeper. A revelation that allowed me to understand my vocation: to discover, understand and share culture, beauty and stories of these places. And so, more than 20 years ago, I chose to undertake the path to become a certified tour leader and tourist guide, gradually extending my area of expertise across Liguria and the Côte d'Azur, from Portovenere (Liguria) to Marseille (France). Since 2016 I´ve also been tourist guide for the Principality of Monaco.
My commitment to the continuous and constant learning, my enthusiasm in discovering new stories and new territories to be told, and the vocation to be a guide (and not just to work as a guide) have never abandoned me.
My approach? I believe in the value of preparing the tourist for the visit: with me, the Journey begins already on the bus. I believe in critical thinking: I enjoy highlighting also less popular points of view and offering food for thought. We travel together, respecting the group. You return home with the desire to start over for the next trip.