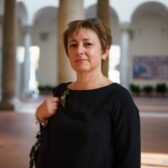 I mostly work in my home city of Genoa, but I also cover the wonderful sights of the nearby Italian Riviera. Some time ago, on a boat heading towards San Fruttuoso, I was asked if I ever get bored of visiting these places and showing them to travellers.
I replied no, I never tire of seeing them, taking photos and telling their stories. They are unique places that I know like the back of my hand, and I love them for their simultaneously heart-rending and intense beauty. I live amongst the places I describe, in the heart of the historic city centre: I know the roads, the palazzi and the churches. And I know the smells, the light, the spaces, the food and the faces even better.
Helping travellers experience the art, food, history and everyday life of this region is more than just my job. It is my passion.
I studied in Genoa, and graduated in Modern Foreign Languages and Literature, specialising in art. I began working as a tour guide in 1994, as well as collaborating with various conference organisers.
I have many years of experience as a tour guide, working for leading Italian and foreign cruise companies, cultural associations and groups; in search of new challenges, I decided to start guiding individual travellers.