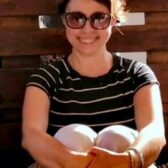 Hello everybody, I'm Antonella, I was born and I live in Genoa.
After graduating in Foreign Languages at Genoa University, I'm currently teaching English in a Secondary School, a work I really love.
History of Art  has always been another of my passions, and I have worked as a Tour Guide for over 30 years now, welcoming thousand visitors and showing them my  Genoese "carruggi", museums, churches and palaces.
Together with Genoa, the seaside resorts of the Italian Riviera, from Camogli to Portofino, Santa Margherita and Sestri Levante have always been the setting of my visits for individual tourists and groups of every age and interest.
What do I really love about this work?
Helping visitors feel new emotions through experiences that can go beyond a simple visit, sharing daily life sensations, unusual sights, local flavours and, mainly, creating memories that will last for ever.