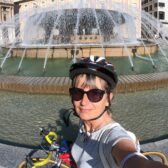 Graduated in Foreign Languages and Literatures, I have been a licensed Tourist Guide for over twenty years.  I carry out my business with passion mainly in Genoa and in the Tigullian Gulf.
Over the years I have collaborated with the most important Italian and international Tourist Agencies, with the Museums Sector of the Municipality of Genoa, Palazzo Ducale (as the main venue for temporary exhibitions), Cruise Ship Shipping Companies, etc.
My fields of interest are many, from Art History to local culture, from the Middle Ages to Contemporary History.  In recent years I have discovered a new form of art and I have become passionate about Street Art (visit the dedicated Facebook and Instagram page).