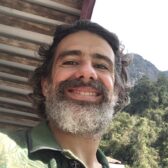 bordigo@inwind.it
+393931339409
---
Abilitazioni:

AT

GT

Province:

SP

Lingue:
I consider myself a very lucky man because I love my job: it consists of sharing my homeland, its culture and its landscapes with people coming from all over the world to enjoy a real Italian experience. I have been giving tours for more than 20 years (to school groups, families, relaxed elderlies, super active people, scholars, ministers) and I still feel very passionate about my job…
…because I am always surrounded by beauty (something that can never tire you);
…beacuse I always meet different people and I learn from them how to look at things from many different perspectives;
…because at the end of the day I am always proud to have relayed the very values that make my land a special place in the heart of many visitors.
I love nature, art, architecture, good wine and food and all the other ways human beings use to express the best of themself.
Guide in Florence