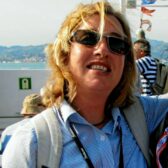 In 1985, while traveling, I arrived in La Spezia by chance and… I never left.
This area is so inspiring with its overwhelming nature and almost vertical coast, wild vertiginous rocks with long wine terraces, forgotten villages with their authentic inhabitants and the many hiking trails that during every visit ….. I discover something new which makes this area so adventurous for me.
I am so lucky not only to get to know this part of the Ligurian coast with its own art, flora and fauna, lifestyle, legends and inexhaustible fantasy in the kitchen with delicious local dishes but also to experience it!
I have been able to turn my passion for this area into my work and as a Turist and NatureHiking Guide I am happy to share my knowledge and experiences with anyone who wants to visit  the province of La Spezia.
I guide throughout the province but most of my  tours I do in the National Park of the 5 Terre, in the Gulf of La Spezia with Lerici, Portovenere and Tellaro, in Sarzana and in the city of La Spezia.
____
In 1985 kwam ik, al reizend, bij toeval in La Spezia en…ik ben er nooit meer weg gegaan.
Dit gebied is zo inspirerend met zijn overweldigende natuur en bijna vertikale kust, wilde  duizelingwekkende hoge rotsen met lange wijnterrassen, vergeten dorpen met zijn authentieke bewoners en de vele vele wandelpaden dat ik iedere keer…iets nieuws ondek hetgeen dit gebied voor mij zo avontuurlijk maakt.
Ik heb het geluk gehad dit deel van de Liguriaanse kust met zijn eigen kunst, flora en fauna, levensstijl, legendes en onuitputtelijke fantasie in de keuken met heerlijke locale gerechten niet alleen te leren kennen maar ook te beleven!
Van mijn passie voor dit gebied heb ik mijn werk kunnen maken en met veel plezier deel ik als Toeristisch –  en Natuurgids graag mijn kennis en ervaringen met een ieder die de provincie La Spezia bezoeken en beleven wil.
Ik gids in de hele provincie maar de meeste rondleidingen voer ik uit in het Nationale Park van de 5 Terre, in de Golf van La Spezia met Lerici, Portovenere en Tellaro, in Sarzana en de stad La Spezia.