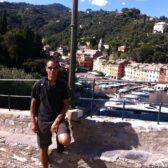 paolofolco@gmail.com
+393336480712
---
Abilitazioni:

AT

GAE

GM

GT

Province:

SV

Lingue:
I'm deeply in love with my beautiful region which I've got to know so well over the years not only its natural environment but also its history and art. I was so interested in the environment, history and art that I studied and became a qualified Tour Guide. Therefore my passion became a job.
The Ligurian landscape is very varied and passes from the coast to the hills and even to the mountains in a few kilometres making Liguria almost unique. The vegetation, the villages and the spectacular views are so different whether on te coast or the hinterland. One never gets tired and prompts one to get to know the region better and visit it.                  
I experience great joy in transmitting my knowledge about the region and this makes me happy to exercise this extremely interesting profession.